We specialize in creating social media strategies and content that can help businesses of all sizes to grow their online presence and reach their target audience.
Our Social Media Services include:
Strategy Development – Our team of experts can help you to develop a comprehensive social media strategy that aligns with your business objectives and helps you to achieve your goals.
Content Creation – We can create engaging social media content that is tailored to your target audience and encourages engagement and interaction with your brand.
Social Media Management – Our team can manage your social media accounts on your behalf, ensuring that your profiles are regularly updated with fresh and relevant content that is optimized for maximum engagement.
In today's digital age, social media is a powerful tool that can help businesses to connect with their customers, increase brand awareness, and drive traffic to their website. However, creating a successful social media presence requires more than just posting a few updates on Facebook or Instagram.
At Be Digital, we understand that social media is an integral part of any successful digital marketing strategy. That's why we take a holistic approach to social media marketing, considering factors such as target audience, content type, and platform optimization to help our clients achieve their business goals.
Whether you're looking to build a brand, increase engagement, or drive traffic to your website, our team of social media experts can help you to achieve your goals. We pride ourselves on creating tailored social media strategies that are designed to meet the unique needs and objectives of each of our clients.
If you're looking for an effective way to grow your business and connect with your target audience, then our social media services are the perfect solution. Contact us today to learn more about how we can help you to achieve your social media goals!
Web Design
Web Development
E-Commerce Websites
Social Media
SEO
Graphic Designing
Content Writing
App Development
Web Design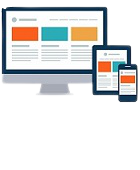 The best website design is based on understanding the buyer's needs and then transforming them into a stunning design that combines an intuitive route, useful and relevant content, with efficient calls to action which will ultimately bring you more revenue.
Web Development
E-Commerce Websites
Social Media
SEO
Graphic Designing
Content Writing
App Development
Let's make your project a success. Fill out our form below and a guide at Aktiv will contact you.